Earth Day 2020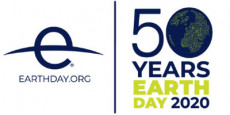 Earth Day Network's mission is to diversify, educate and activate the environmental movement worldwide. Growing out of the first Earth Day in 1970, Earth Day Network is the world's largest recruiter to the environmental movement, working with more than 75,000 partners in over 190 countries to drive positive action for our planet.
Our world needs transformational change. It's time for the world to hold sectors accountable for their role in our environmental crisis while also calling for bold, creative, and innovative solutions. This will require action at all levels, from business and investment to city and national government.
That's where you come in: As an individual, you yield real power and influence as a consumer, a voter, and a member of a community that can unite for change.
Don't underestimate your power. When your voice and your actions are united with thousands or millions of others around the world, we create a movement that is inclusive, impactful, and impossible to ignore.
As the 50th Anniversary of Earth Day approaches, the time is long overdue for a global outpouring of energy, enthusiasm, and commitment to create a new plan of action for our planet. Earth Day 2020 can be the catalyst that galvanizes an unparalleled global collaboration.
Read more here
Quelle
: https://www.earthday.org/earth-day-2020/, 21st April 2020
"Going International promotes access to education and training for all regardless of social, geographic and national borders."