What does love do to our brains?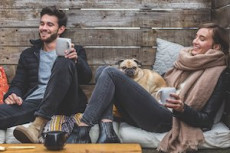 Butterflies in your stomach. That giddy feeling you get when the person you like is nearby. Excitement to be around them again. All of these feelings will be familiar to people who have fallen in love.
However, love itself remains largely a mystery. Why do we fall in love with the people we do? Why do we stay in love, and what makes us fall out of love? Some of these questions remain unanswered, and researchers from a range of disciplines are still grappling with what makes love … well, love. Still, scientists have been working for decades to understand the mechanics of love, including how it expresses in the brain and how it "makes us tick."
So, while we may not yet know everything about this deeply human experience, we do have some good pointers — about its neurobiological underpinnings, at least.
This is the main question that scientists have striven to answer.
In 2000, Prof. Semir Zeki and Andreas Bartels, Ph.D. — from University College London, in the United Kingdom — set out to find out. They conducted a study with 17 healthy volunteers — both males and females, aged 21–37 — who reported being "truly, deeply, and madly in love" with someone.
In their study — the findings of which they explained in the journal NeuroReport — Prof. Zeki and Bartels conducted brain scans of the volunteers while they viewed images of their significant others.
The scans revealed that when the participants gazed at the face of the person they were in love with, some specific brain areas "lit up." Those were the medial insula, the anterior cingulate cortex, and segments of the dorsal striatum.
However, there were also some brain regions that appeared to deactivate. These included parts of the right prefrontal cortex, the bilateral parietal cortex, and the temporal cortices. Further research revealed an even more complex picture of romantic love in the brain.
In a commentary that appeared in FEBS Letters in 2007, Prof. Zeki went on to note that "[t]he areas that are involved [in the neurochemistry of love] are, in the cortex, the medial insula, anterior cingulate, and hippocampus and, in the subcortex, parts of the striatum and probably also the nucleus accumbens, which together constitute core regions of the reward system."
What does all of this mean? Medical News Today spoke to Sandra Langeslag, Ph.D., who is an assistant professor of behavioral neuroscience at the University of Missouri–St. Louis. Langeslag is an expert on the neurocognition of romantic love, and she has been studying this topic for years. "Love," she told us, "is a very complex process, so many different brain regions (and hormones and neurotransmitters) are involved."
How does love affect our minds?
There are some hypotheses, however, that correlate the activation and deactivation of certain brain areas with specific behaviors and attitudes associated with romantic love. Prof. Zeki, for instance, explains that romantic love activates "brain regions that contain high concentrations of a neuromodulator that is associated with reward, desire, addiction, and euphoric states, namely dopamine."
This is why, he suggests, people in love get a constant "high" — because dopamine makes us want to bond with others and strengthen existing bonds.
Read more here.
Autor
: Maria Cohut, Ph.D.
Quelle
: Medical News Today, 16.03.2020
"Going International promotes access to education and training for all regardless of social, geographic and national borders."