Mercy Ships: Mansare's Journey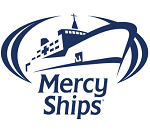 Four-year-old Mansare had struggled all his short life with a condition known as "bowed legs" which made walking, running and playing with friends impossible. His condition threatened to crush his brave little spirit.
After years of watching him struggle with limited mobility, Mansare's mother Simone heard about Mercy Ships and prayed that he might find healing.
She brought Mansare to the Mercy Ships screening day, where approximately 6,000 others had gathered in hopes of being seen by our volunteer nurses. Because of the crowd, Simone was afraid they wouldn't get through. But Mansare's brave spirit kicked in. He slipped through the gate of the compound and waved at his mother from the other side. "If you can't get through, I will go and stand in line," he said.
Once she got inside, Simone found Mansare standing in line by himself, unafraid. He was determined to get accepted for surgery on the Africa Mercy — and he did!
Read the whole article here.
Quelle
: Mercy Ships (13.1.2022)
"Going International promotes access to education and training for all regardless of social, geographic and national borders."